Joanne Shaw is very experienced with young and competition horses, she has learnt how to get a novice horse to the top.
Joanne is well known for producing WHP & she is now also gaining a credible name with Riding horses, hacks, show cobs,coloureds & Natives.
Joanne has qualified for RIHS and HOYS every year and picked up many WH championships such as the Lord Leverhulme Gold Cup, Desert Orchid Blue Riband winner twice, BSPS Gold Cup winner 4 times, Champion of Champions Champion & has represented the England Working Horse Team at the BSPS , winning individual gold as well as team winner.
Joanne has previously taken Champion Working Show Horse at the BSHA Championship Show on her own horse Esanto
In 2015 she qualified both Daybreak Lad & Wonderland for HOYS & ended 2016 on a high gaining 4th place at HOYS with HW cob Daybreak Lad.
Since 2017 Joanne has taken a break from riding in the ring and is focusing on Producing Horses for their owners to ride and Sales Livery.
I honestly couldn't of hoped for a better experience of buying a horse. Jo was always at the end of the phone when I needed her, viewing was perfect, facilities are DREAMY! From start to finish she has been more than accommodating! Very very very positive experience and wouldn't hesitate to recommend Jo to anyone! Oliver is all snuggled up in his new bed and I'm feeling super lucky! Thank you Jo! A fabulous service!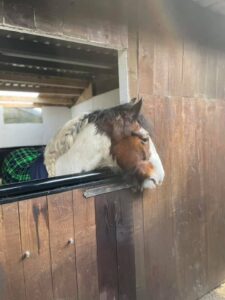 ....
I sent my rising four year old to Jo for schooling.
The service received was fantastic! I had regular updates and videos. My horse received fantastic care and he was schooled kindly and did a variety of work.
He came back beautifully schooled and had even started jumping. Would highly recommend Jo.
....
Genuinely the most caring, honest and just lovely person I have met in a very long time.
We sent our mare to Jo to be sold, something which was not an easy decision but she made it all that more bearable. She was great at keeping us updated and certainly does her research on each and every horse; I would not have trusted her with anyone else but Jo.
I cannot thank you enough for finding her the best home I could have wished for!
Thank you again
....